Location Ireland
Europe / Ireland / Leinster / Dublin
How long has Glen Dimplex been in Ireland?
When Martin Naughton founded Glen Electric in 1973, he was just an engineer with a great business idea. By the time he bought Dimplex in 1977 – a company eight times the size of Glen Electric – he was already a businessman with a truly international vision. Since then, the Glen Dimplex Group has grown steadily and enjoyed great international success. The headquarters in Dublin has a staff of 200.
What customers and markets does the Glen Dimplex Group serve?
What began with a handful of people more than forty years ago is now the world's largest manufacturer of electric heaters and generates an annual turnover of EUR 2 billion. To this day, the Glen Dimplex Group is owned and run by the Naughton family. Some 4,000 employees around the world are busy making the planet cleaner and more environmentally friendly – with intelligent electric heating, cooling and ventilation systems.
"I have a firm reliance in the competence and the expertise of all our employees."
Fergal Leamy
Chief Executive Officer
Glen Dimplex Group
"You can't develop without changing. The new strategic alignment helps us be more responsive to the needs of our customers."
Fergal Naughton
Executive Chairman
Glen Dimplex Group
"Running a family business gives us great freedom to think long term."
Neil Naughton
President
Glen Dimplex Group
Location China

Asia / China / Shenyang
Since when does the location in China operate?
The company which now is called Glen Dimplex (China) Precision Cooling Machinery Co. Ltd. was founded in the early 2000s. Along with the locations in Kulmbach and Kalamazoo (USA), Shenyang is an essential cornerstone of the global network of the Precision Cooling Division. Glen Dimplex China started with night storage heaters and electric heaters and became part of Glen Dimplex Deutschland GmbH officially in 2014.
Which customers and markets does Glen Dimplex China serve with the Riedel Kooling brand?
Today, Glen Dimplex China focuses entirely on the refrigeration sector. Glen Dimplex China is a fully developed company in the Precision Cooling division with modernized production, an efficient development team, sales, service and purchasing organization.
The range in the refrigeration area is being systematically expanded and Glen Dimplex China is becoming a system supplier for medical technology refrigeration applications. In addition to the core business with separators, the central cooling water supply for the magnetic resonance tomographs, the entire infrastructure for the MRT system is also offered from a single source.
"Quality, customer orientation, efficiency and teamwork - that is what our corporate culture is about."
Yandi Wu
Human Resources Team Member
Location Germany

Europe / Germany / Bavaria / Kulmbach
How long has the company been in Germany?
In 1860 Christian Weiss founded the forerunner of the firm ASK Kulmbach; in 1973 Kulmbacher Klimageräte-Werk GmbH (KKW) was formed as a joint venture with Siemens. Since 1990 KKW has belonged to the Glen Dimplex Group. About 700 employees work in Kulmbach.
What customers and markets does Glen Dimplex serve in Germany?
For more than 40 years the plant in Kulmbach has been developing and manufacturing highly efficient cooling and heating systems: Whether it's keeping a home cosy and warm or cooling machines and processes with high precision. Every year more than 50,000 systems leave the production halls – including cooling units with a capacity of 1 to 226 kW and heat pumps with a capacity of 4 to 180 kW.Over 10,000 customers from more than 30 different market segments already work with Riedel Kooling worldwide and are convinced of the quality. The spectrum ranges from resellers and end customers to large corporations – from laser machines to MRIs and 3D printers – from customer-specific individual projects and small series to large series with several 20,000 cooling solutions per year.
"Together with our customers and technology partners, we develop sustainable solutions for a wide variety of cooling applications and make a key contribution to a better future!"
Sascha Paulus
Business Unit Director Cooling
Location US

North America / US / Michigan / Kalamazoo
How long has the company been in the US?
The company was founded in 1952 by the engineer Hermann Hill under the name Koolant Koolers. After acquisition by the Glen Dimplex Group in 2006, it was renamed Dimplex Thermal Solutions (DTS). Some 200 employees currently work for Glen Dimplex Group in Kalamazoo, Michigan.
What customers and markets does DTS serve in the US with the brand Koolant Koolers?
At the 10,000-m² plant on the southern outskirts of Kalamazoo, cooling systems are planned and manufactured for industrial clients across North America. The highly efficient cooling units are used in laser systems, medical imaging and the production of plastics and foodstuffs, for example in breweries. In fact, wherever powerful, energy-saving process cooling is called for.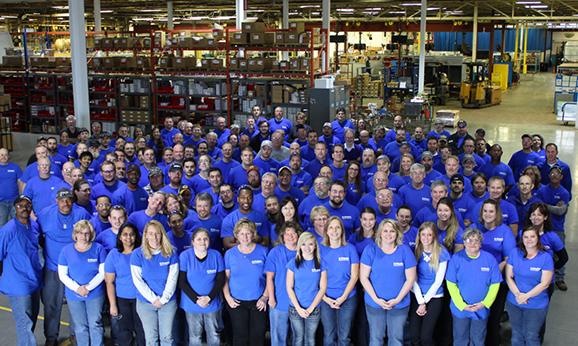 "We have a lot of people here with bold ideas."
Roger Ethel
Sales representative